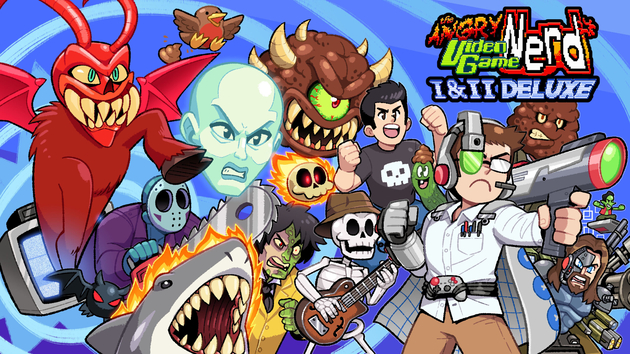 Angry Video Game Nerd I&II Deluxe
AVGN 1 & 2 Deluxe Receive Limited Run Games Release!
---
FOR IMMEDIATE RELEASE
Action-Platformer Angry Video Game Nerd I & II Deluxe to receive a physical release on Nintendo Switch and PlayStation 4
Preorders Are Available Now!
Philadelphia--December 1, 2021 | Screenwave Media Games and FreakZone Games, in partnership with Limited Run Games, are proud to announce the physical release of Angry Video Game Nerd I & II Deluxe for the Nintendo Switch and PlayStation 4 consoles. This remixed and rebalanced collection contains every stage from both famously tough action platformers, Angry Video Game Nerd Adventures (2013) and Angry Video Game Nerd II: Assimilation (2016), making it the definitive experience in NERD rage. Pre-Orders for the region-free physical edition are available for a limited time with expected fulfillment during Q2 2022.
This physical release also includes a reversible cover complete with both the games' key art and an LJN "inspired" backside.
ABOUT THE GAME(S)
The Angry Video Game Nerd has been sucked into Game Land! It's up to you to guide him through three terrible and treacherous retro game worlds! Angry Video Game Nerd: I & II Deluxe features two previously released Nerd titles, polished and ready for your frustration!
Angry Video Game Nerd Adventures (2013) is influenced by retro classics such as Mega Man and Castlevania and is a fun, fast-paced 2D action-adventure based on the characters and memorable moments from the online series The Angry Video Game Nerd. With multiple playable characters, power-ups, and tons of secrets, Angry Video Game Nerd Adventures is the perfect challenge for fans of old-school difficulty, fart jokes, and/or the Nerd universe.
In Angry Video Game Nerd: ASSimilation (2016), a mysterious beam from space changes the world into a video game, so it is up to the angriest gamer you've ever heard to put the "A**" in ASSimilation! Experience the classic, NES-hard challenge you've come to love, mixed with new mechanics, abilities, and collectible armor pieces the Nerd must use to defeat his most challenging foe yet!
FEATURES (NEW TO 2020 Digital Release)
Enhanced Visuals!
Updated Game Engine!
Improved level design and difficulty options!
Quality of Life Improvements!
New Chapter Completes the Story!
About FreakZone Games
FreakZone Games is the UK-based game developer, musician, and programmer behind The Angry Video Game Nerd video games. Some of their other titles include Manos: The Hands of Fate, Knight Terrors, and most recently, Spectacular Sparky, "an action-packed platform/shooter with wacky characters, explosive weapons, and boss battles to treasure."
About Screenwave Media Games
Screenwave Media Games develops and publishes character-driven, accessible, and retro-inspired video games. With years of experience in online content creation, an international team of skilled developers, and a shared love of titles from our past and present, we aim to build unique and unforgettable games. Previous titles include Dumpy & Bumpy and Eagle Island.
About Limited Run Games
Limited Run Games is "a publisher of...limited run, physical games for a number of systems — including Nintendo Switch, PS4, Vita, PSVR, PC, and retro consoles. We focus on bringing digital-only games to a physical medium, but we also create definitive editions of games you know and love…"
Pre-Orders for Physical Release Begin
November 23, 2021 (Dec. 19th Limited Run Games Deadline)
Platforms
Nintendo Switch, PlayStation 4
Physical Release Trailer | Press Kit | Pre-Order NOW! | Screenwave Games Website
--
MEDIA CONTACT
|| FOR REVIEW KEYS AND/OR OTHER INQUIRIES ||
Screenwave Media Games
Tara Tomaino
Gaming PR Coordinator
tara.tomaino@screenwavemedia.com
(855) 908-8823 ext. 715
Get Angry Video Game Nerd I&II Deluxe