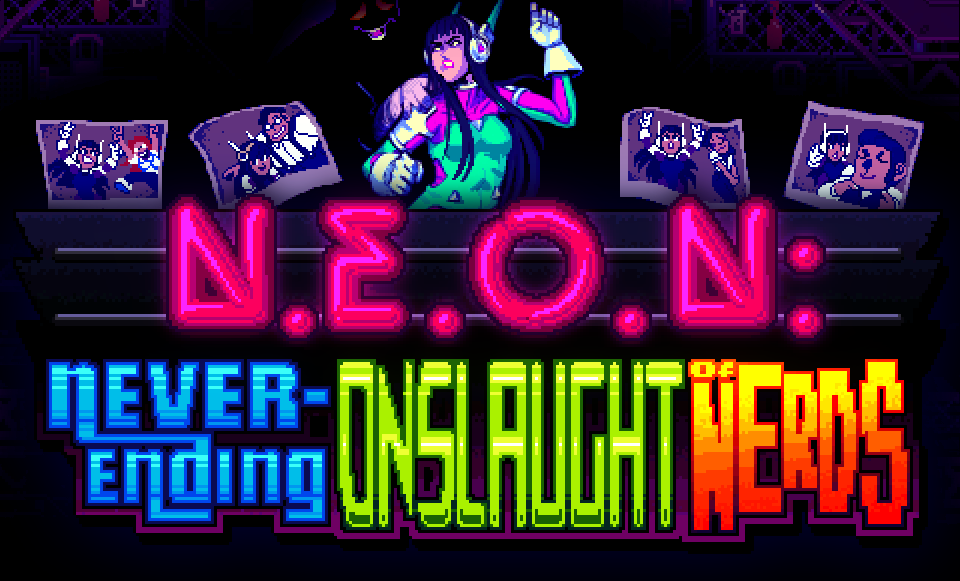 N.E.O.N.: Never-Ending Onslaught of Nerds
A downloadable game for Windows
WELCOME TO NeCON!
We've missed going to in-person events this past year and feel the isolation, so we decided to replicate the convention experience! You are a famous cosplayer and influencer, and it's your job to smile for the camera... with a Never-Ending Onslaught of Nerds! (...Hey, that's us!)
How long can YOU last before things get... Awkward?!
Snap your way through hordes of excited fans!
Rack up points and top your high score!
Feel the awkwardness!
DEVELOPERS
Developer/Publisher
Screenwave Media Games
Lead Designer
Sam Beddoes (FreakZone Games)
Additional Design
Iván G. Lago (@ivangonlag), David Biggs, and Ryan Schott
Programming
Iván G. Lago (@ivangonlag), Sam Beddoes (FreakZone Games)

Pixel Art and Character Design
Anthony Carlson (@LuckySoftworks)
Music and Sound
Sam Beddoes (FreakZone Games)
VOICES
Cosplayer: Shellah
Announcer: David Biggs
Nerds: Sebastian Todd, Mika E. D. Mitchell, Karl Howe, Shellah, Sam Beddoes
Additional Support
Xander Arnot, Brandon Littlepage, and Tara Tomaino
Install instructions
Extract the contents of the zip file into your desired location, run NEON.exe and GET NERDY!